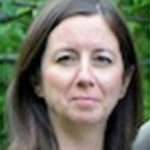 Carol B. Goldman
President
Carol, a long-time resident of Washington, D.C., became President of the Trust in 1998. Since then, Carol directed the Trust's dramatic expansion of the Conservation Easement Program into a nationally recognized model. She has provided advice and testimony on the federal level to Congressional staff and the judiciary, which broadened governmental insights into the use of financial incentives for public participation in historic preservation. Carol oversaw the launch of D.C.'s first Historic Properties Redevelopment Program and continues to guide organizational development and fundraising initiatives for the Trust. Carol earned both her baccalaureate degree and law degree at Georgetown University.

Send email to info@lenfant.org
Lauren Oswalt McHale
Executive Director
Lauren was appointed Executive Director of the Trust in 2015, after serving eight years as the Director of Preservation. In her new position, Lauren oversees the Trust's daily operations, including the Conservation Easement Program and the Historic Properties Redevelopment Program. Prior to joining the Trust, she served as Program Assistant at the Central Regional Office of Indiana Landmarks. Lauren has a B.A. in Art History and Historic Preservation & Community Planning from the College of Charleston and a M.S. in Historic Preservation from the School of the Art Institute of Chicago. Lauren serves as a board member for Preservation Action, Latrobe Chapter of the Society of Architectural Historians, and the ACE Mentor Program (ACE DC). She is also an active citizen member of the Planning, Zoning and Economic Development Committee of Washington's Advisory Neighborhood Commission 6C.
Send email to Lauren@lenfant.org
Kate Kenwright
Historic Preservation Specialist
Kate Kenwright, is the Trust's Historic Preservation Specialist. She received her B.A. in Southern Studies from the Center for the Study of Southern Culture at the University of Mississippi, where she also graduated from the Sally McDonnell Barksdale Honors College. Kate completed her Master of Preservation Studies Program at the Tulane School of Architecture. While attending Tulane, Kate interned with Longue Vue House and Gardens, Clio Associates, and the National World War II Museum. As part of Kate's graduate studies, she worked at the Preservation Resource Center of New Orleans where she participated in administering and monitoring easemented properties throughout the New Orleans area.
Send email to kate@lenfant.org